ByDania Lerman, writer at Creators.co
Yesterday was Nina's birthday, but there's no way I want to celebrate until she and Ian are back together. I'm glad they have enough chemistry to joke about their breakup...
...but I won't be happy until they're back to the best OFF screen couple, too! Here's why:
1) They still love each other and let everyone know:
---
2) They claim to be "friends" but look like this:
---
3) This is how they spent her birthday:
---
4) The way she looks at him:
---
5) And the way he looks at her:
---
6) They manage to SMILE and KISS at the same time:
---
7) They make each other laugh: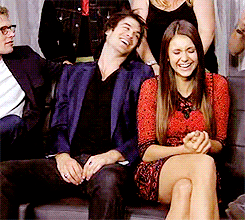 ---
8) She holds his hand while his arm's around her:
---
9) Their chemistry is completely out of control and everyone knows it.
---
10) This is what will happen if they don't get back together:
Share if Nina and Ian NEED to get back together!