ByDania Lerman, writer at Creators.co
Beyond wanting to muster some straight-up appreciation for this beloved 90s flick, it also happens to be (very conveniently) the most PERFECT movie for EVERYONE on Valentine's Day, no matter how much you love/despise the old 2/14. Here's why:
---
1) If you're in Valentine spirit, you'll die for the romance:
Question: could that be any sweeter? Answer: no.
---
2) If you're in the more cynical crowd, you'll get a kick out of this: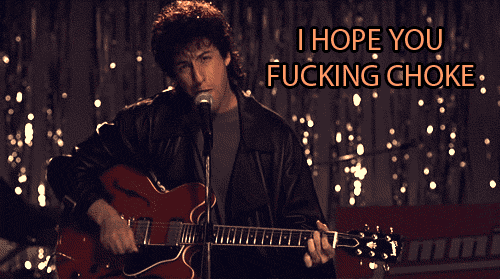 That's addressed to his ex-fiance, FYI.
---
3) Drew is as charming/quirky/relateable as ever:
I mean...who doesn't love a good 'ol dose of 90s Drew?
---
4) We get to watch Billy Idol play himself:
...literally.
---
5) It's the ultimate underdog victory:
Whether your snuggling up with a sweetie, or biting the dust of the single valentine blues, the happy ending for the failed-rockstar-dumped-at-the-alter-of-his-own-wedding appeals to everyone.
---
Share with whoever's watching The Wedding Singer with you tonight!