ByDania Lerman, writer at Creators.co
A rising wave of Jennifer Lawrence backlash is beginning to surface, only proving that there's nothing wrong with our beloved JLaw, but with human beings, in general.
For years, we've criticized Hollywood for promoting negative body image, anorexia, excessive materialism and a general tendency to avoid being down to Earth.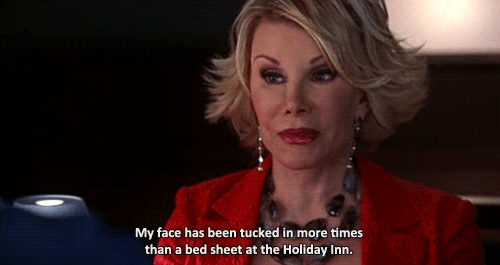 We finally get a celebrity, and by celebrity I mean A+ top of the line movie star, who embodies the ideal superstar we never thought could actually exist:
With a friendly smile and uninhibited sense of humor, Jennifer Lawrence shamelessly admits to being starstruck, eating french fries, and promises to never lose weight for a role. She is, hands down, the role model we've all been pining for.
But as soon as the internet started overflowing in her honor did concerns arise as to how long it would last. Even Jennifer expressed some worry:
"I feel like I'm becoming way too much,"she said recently."Everybody is very fickle. They like me now, but I'm going to get really annoying really fast. Just watch."
Joan Rivers was the first to take a jab by calling her "arrogant" and a "hypocrite" after Jennifer spoke out (in all her grace and glory) against the distorted values embraced by shows like Fashion Police. Here's how Joan likes to treat other women in the industry:
Naturally, Joan didn't get too far, as her bitter and crude backlash did nothing to shake the firm adoration of Jennifer's following.
A few politicians tried to accuse Jennifer of promoting excessive censorship for wanting to outlaw public fat shaming. But, surprise surprise, people weren't too convinced, and still preferred positive body image.
But here's where it really gets frustrating: with nothing left to attack Jennifer with, desperate critics have resorted to simply calling her a fake! Since everything she does is undoubtedly awesome, all they can do is try to convince us that "it's not real."
Take the SAGs, where Jennifer swiftly recovered from her Dior wardrobe malfunction with a slick adjustment and ever cool demeanor. While most responded with praise and affection, others tried to write if off as a media stunt, like Salon's Daniel D'Addario who sneered that "...her couture dress fell as it was designed to."
And then there's Jordan Hoffman who, well-suited to a publication literally called Vulture, wrote this:
"[Jennifer's] swift climb to the A-list is based on something very specific: She's an extremely talented actor, not just a pretty face. And all actors are trained fakers when you get down to it."
And, as you may have heard, people are doing incredible philosophical gymnastics to accuse Jennifer of "body shaming":
Because apparently, if "actual fat people" talked about eating french fries it wouldn't be so positively received...
...um...which is why it follows that Jennifer is body shaming?
Give me a BREAK people. I don't know about you but all this makes me want to SCREAM!!
Why must we ALWAYS build people up ONLY to rip them back down?!
The only thing this wave of attempted backlash proves is that there is something seriously wrong with the human population.
Jennifer DESERVES the love she gets - she's a ray of light and a spark of hope in a world deeply entrenched in self-hatred, excessive criticism and compulsive starvation.
Rather than letting her fame "get to her head" as so many can't help but succumb to, she's used it to remind us that it's OKAY to laugh and be happy.
Let's not forget that...okay?
Share if Jennifer is perfect as she is!