ByDania Lerman, writer at Creators.co
...and who else could ever, POSSIBLY pull that off? Here 10 times our one and only JLaw proved you don't need the Academy to call you a winner in order to truly be one:
---
1) When she fell. Again.
Note the girl she almost dragged down with her - that could've maaaybeee beat Ellen's selfie in shares...probably good we'll never find out.
---
2) ...even after practicing not-tripping.
...too bad no one warned her about those cones.
---
3) When Ellen told the audience about it...
...and she was embarrassed and super adorable:
---
4) When she and Cate Blanchett ran into each other and made friend crush history:
"...someone I admire, who's an incredible actress, is Cate Blanchett. I think she's extraordinary." - JLaw, Nov. '13
Can you even handle this girl power? Cuz I can't.
---
5) When she walked on stage to announce Best Actor and this was the first thing she said:
No matter how chic her Dior gowns get, she never loses her sense of humor. Even with those killer hip flaps.
---
6) When she was the best un-sore loser in Oscar history:
JLaw: "Can we split it?" Lupita: "IT'S ALL MINE!"
Um...also...why has no one realized that JLaw and Lupita need to be best friends so badly it hurts?
---
7) When the selfie happened:
...and instantly became the most re-tweeted thing in the world.
---
8) And last but not least, when her year-long wish for pizza...
2013: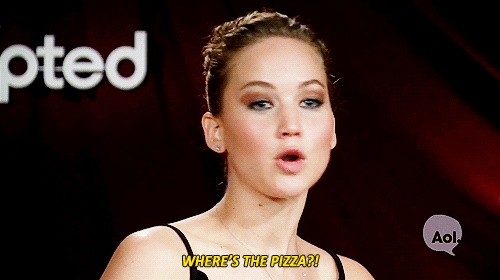 ...finally came true.
2014:
---
Share if Jennifer won YOUR Oscars last night!