ByDania Lerman, writer at Creators.co
It's Chuck Norris's birthday - but no time for that. Chuck, the ever wise and fearless fighter of all human and moral sacrilege, has turned his attention to a hidden threat and, as always, has taken the duty upon himself to inform us and keep us safe.
This sleeper agent is not only invisible, but silent and deadly. It's hidden among us and could be found in anyone - your dog, your friends, your family. Ladies and gentleman, people of the world: Beware. Of. GERMS!!
Chuck is looking out for us. In a recent contribution to WND.com, Chuck thoroughly, and selflessly, has warned us against the enemy, and uncovered all areas of our day-to-day life germs are most likely to linger:
---
1) AT WORK.
Your desk is a BREEDING GROUND for germs:
"There are hundreds of times more bacteria than there are on your company's toilet seats."
And that's not all - so is the break room's refrigerator door. But don't worry - Chuck knows how to fight back:
"Just remember two words: paper towel."
And then?
---
2) PUBLIC RESTROOMS.
And we're not talking about toilets - but the sinks and hand dryers. You may think you're cleaning up, but
"...rubbing your hands together under a dryer can boost the number of bacteria on your skin by up to 45 percent."
But Chuck's got your back!
"Use paper towels if they are available. And if not, take a moment just to let your hands dry naturally."
KaPOW!!
---
3) THE BANK.
DID YOU KNOW:
"...dollar bills contain an average of 26,000 bacteria? And a key on an ATM keyboard harbors an average of 1,200 germs?"
But that's nothing when you've got Chuck to remind you to wash with soap and sing happy birthday twice.
SEE YA GERMS!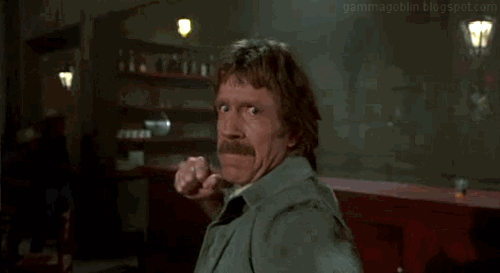 ---
4) THE GROCERY.
"Your grocery can be a bacteria war zone."
So here's what you do:
Wipe down the shopping cart handles with sanitizing wipes. And BEWARE reusable shopping bags!
"I understand they're better for the environment, but have you ever considered the germs that are also placed into the bags – meat juices, loose produce, etc.–- and then fester there until you return to the store?"
Solution?
"Make sure you wash your reusable bags in between each trip to your grocery."
Take THAT germs!!
---
5) HOTEL ROOMS.
You knew this was coming:
"Television remote controls. But don't forget those light switches, too. Both are bacteria-bolstering communities."
SO:
"Always pack sanitizing wipes when loading your luggage – or just keep a pack in your suitcase."
BAM!
---
6) AT THE GYM.
Chuck admits,
"This is a tough one for me because I love my gym and use it often."
But unfortunately, cold-causing viruses are found on 63 percent of gym equipment.
Chuck reiterates:
"I'm certainly not saying to avoid local gyms. I'm a big advocate of them."
So?
"Bring along your own sanitizing wipes and sanitizer."
See? NOBODY messes with Chuck.
Not Bruce, not germs - NOBODY.
---
Pass Chuck's information on. He might save your life. Again. Here's to you Chuck!