ByJancy Richardson, writer at Creators.co

To avoid fainting, keep repeating 'It's only a movie...It's only a movie...'
This year's Emmy Awards were a mixed bag, but despite the excess of eulogies (for stars such as and ), the show managed a lot of laughs.
1) provided plenty of pizazz...
...even if he refused to provide any twerking.
---
2) and show that they should run for congress...
...then apparently imbibe a pint of gin and forget how stairs work.
---
3) is all about the Girls, specifically .
I guess she is pretty irresistible in Homeland.
---
4) adheres to Polonius' dictum that brevity is the soul of wit in the shortest acceptance speech on record.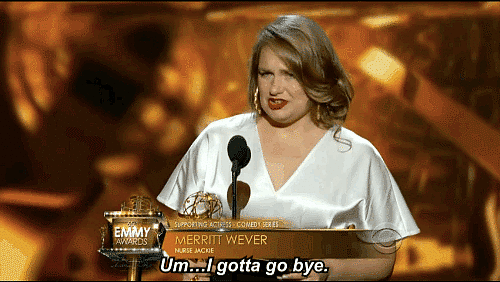 ---
5) , Neil Patrick Harris and are comin' at ya like Cleopatra.
---
6) This guy does a weird crab-step photobomb behind Neil Patrick Harris.
...he loses points for forgetting the costume, though.
---
7) The ceremony honored top TV shows in an extended Showgirls-style dance sequence:
---
8) Apparently, Stephen Colbert looks for the same thing in a wife as I do.
---
9) Someone thought it was necessary to get Carrie Underwood to do a cover of 'Yesterday'.
---
10) Until next year, Emmy fans, is watching you...
---
Did you love the Emmys this year, or, like Tina Fey, do you just 'come to award shows for the twerking'?
[[poll]]