ByDania Lerman, writer at Creators.co
As someone who's almost always single on Valentine's Day, I understand the urge to spit at couples and/or curl up to watch horror movies.
But today is a day of love, which we tend to forget is NOT exclusive to romance. So before you get bitter, here are 10 movies to get you in proper Valentine spirit, to celebrate the love we have for our families, friends, and, well, ourselves:
---
1) The Jeffrey Dahmer Files: Detective/Serial Killer Love
Lead Detective Pat Kennedy opens up about the friendship he formed with "The Milwaukee Cannibal". After watching, you might even find yourself warm up to the guy...
---
2) Nebraska: Father/Son Love
A powerful, touching and tastefully understated father/son story that will make you laugh, cry, and call your Dad to say you love him.
---
3) Death at a Funeral: (Highly) Dysfunctional Family Love
Beyond laughing so hard that you might stop breathing, the insane family dynamics are super relateable, and ultimately heartwarming.
---
4) Winter's Bone: Daughter/Family (Tough) Love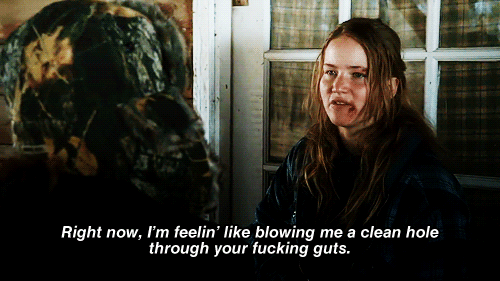 Starring JLaw before she was JLaw, a teenage girl holds her family together in the face of extreme poverty/corruption. Lots of intense girl power and heartbreaking but inspiring family stuff.
---
5) Frances Ha: Roomie Love
You know when your're best friend/roommate kind of becomes your significant other? This is all about that. Super goofy, super touching, etc.
---
6) Little Miss Sunshine: Wacky Family Love
The best of the best when it comes to complicated family love. Prepare for sore abs post uncontrollable laughter, and completely falling in love with Abigail Breslin.
---
7) Dallas Buyers Club: Unlikely Friend Love
The transformation of an AIDS-ridden, homophobic/redneck bull rider when he befriends a flamboyant cross dresser is just incredibly intense/inspiring/deeply impacting/just see it.
---
8) Girl, Interrupted: Patient/Friend Love
A moody teenage Winona Ryder is institutionalized and befriends a sociopathic but dangerously charismatic/seductive Angelina Jolie.
---
9) Ordinary People: Father/Son (/Self) Love
Lots of intense family stuff - another great father/son story, and Mary Tyler Moore freaking ROCKS.
---
10) Dumb and Dumber: Ultimate "Bro" Love
Do I really need to explain?
---
Enjoy the day, my single friends. You ARE loved.